This page documents an example of a working servo motor based gantry plasma machine with a torch height controller (THC). Linuxcnc version 2.5 is used as control software and Gladevcp is used for the THC controls and other user interface buttons in Axis. All configuration files are included here. The configs attached are working files and are based on using Trivkins kinematics. Parameters that are commented out are carryovers from experimentation with using Gantrykins and/or configs before enabling the THC.
The machine is a 3-axis, 4-joint, gantry-style table that (mostly) carries a plasma torch. It could easily carry a router as well and may in the future. Here is a picture of the completed machine: [[1]]. Videos of the machine cutting can be seen here [[2]] and here [[3]].
The controller hardware consists of an Intel D510MO motherboard with 2GB RAM and a 50GB SSD harddrive. GPIO, encoder and step/direction signals are to/from a Mesa 7I43-U-4 Anything I/O USB/parallel 400K FPGA card. [[4]] connected via the parallel port with a special firmware load from Mesa. Step and direction signals are sent to Granite Devices VSD-E servo drivers [[5]] which are driving the X and Y axes motors. The Z axis motor is driven by a Gecko 320X [[6]]
Incorporated into the electronics cabinet is a Low Cost Torch Height Controller (LCTHC) from candcnc.com [[7]]
Below is an image of our Axis pane with the custom Glade panel on the side: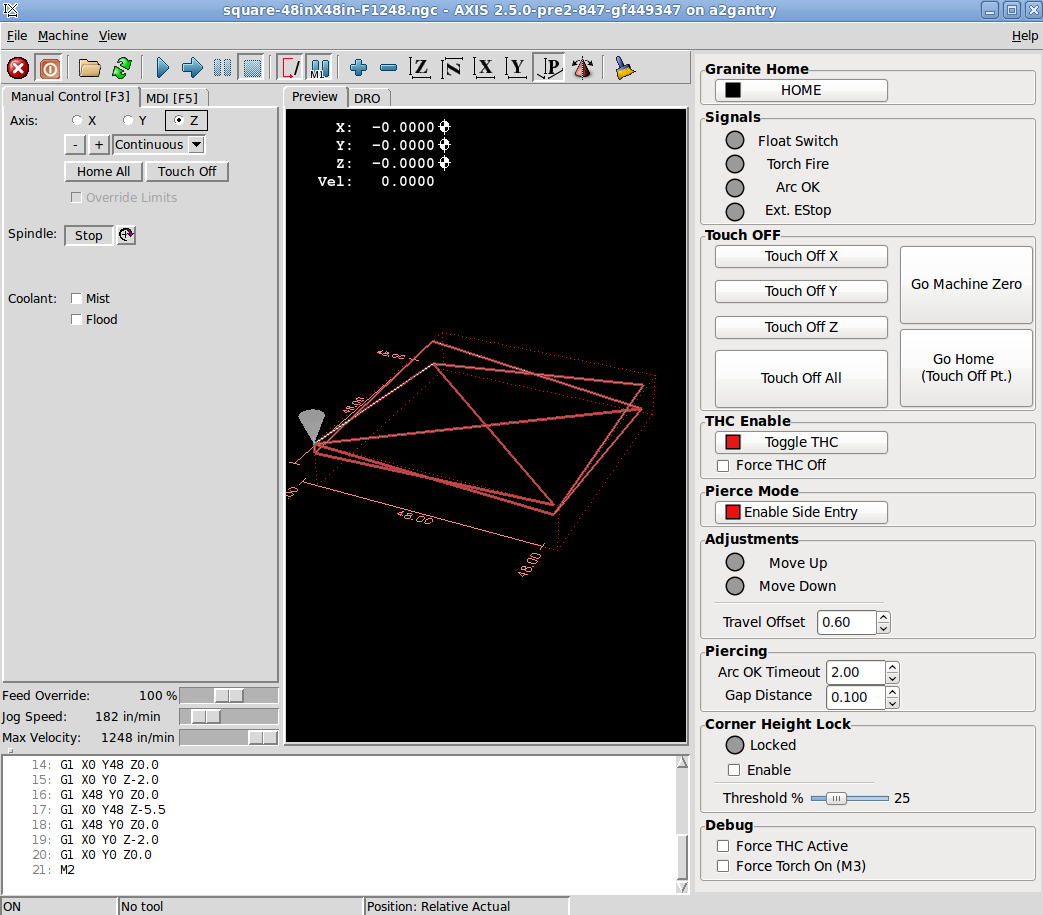 The config files that drive this are:
a2gantry.hal
a2gantry.ini
custom.hal
custom_postgui.hal
A2GantryController?.py
gantry-panel.ui
thcpanel-settings.py
A2THC.hal
THCStateController.py

Also needed for THC and Glade button operation are these file which are put into the nc_files directory within your linuxcnc directory: M120 - Turns THC Master Control Signal ON
M121 - Turns THC Master Control Signal OFF
M130 - THC Probe: Probes to top of material to determine pierce height
M131 - Turns THC Side Entry Mode ON
M132 - Turns THC Side Entry Mode OFF
gohome.ngc - Goes to work coordinates X0Y0Z0 after first lifting Z to a safe height
gomachinezero.ngc - Goes to machine coordinates X0Y0Z0 after first lifting Z to a safe height

This page was originally written by Tome on 021012. Edited 021012.